Combined with years of experience in custom synthesis, Scientific Polymer Products has developed an expert analytical capability specializing in monomer and polymer analysis.
We are pleased to now offer this service to our customers who either do not have this capability or are overloaded in their own analytical facilities.
Scientific Polymer Products has been involved in custom synthesis of polymers since the company was established in 1970. We have served a large number of customers over the years by using the expertise of our chemical staff to conduct polymer research and development. Today, we are a leading source for custom polymers.
Call Scientific Polymer Products and you will talk directly to our chemists regarding your needs and our ability to help. Our people are experienced polymer and analytical professionals with years of experience in defining approaches to solving your problems. We have a polymer oriented library with computer searching which allows rapid access to information needed to help you. Our facilities can accommodate cGMP production and FDA compliance.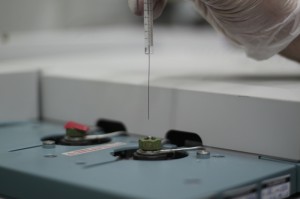 We have a range of scale from gram quantities in microware to several hundred kilograms in a glass lined 200 gallon reactor. A majority of the research and development work is done in flasks from one liter to 22 liters. For scale up there are available 50 liter, 72 liter and 200 liter glass reactors. Also on hand are glass stills for raw material purification, as well as, filters, centrifuges, grinders and vacuum ovens for polymer processing.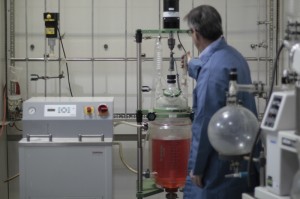 Scientific Polymer Products has a large array of small scale laboratory equipment, ranging from microware to 22 liter flasks. We have the versatility of designing an apparatus to fit the needs of virtually any reaction. SP2 also has the capability and experience to scale up reactions with 50 L., 72 L., and 200 L. all glass reactors.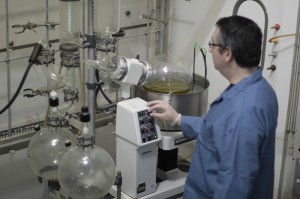 We are experienced in virtually all types of polymerization reactions including:
Anionic – Block Copolymer
Narrow Distribution
Functional Termination
Cationic
Condensation
Free Radical – Bulk
Solution
Suspension
Emulsion
Redox
Group Transfer
Ring-Opening
Ziegler-Natta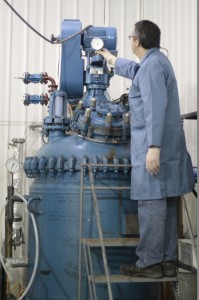 We will be happy to quote on a custom synthesis after we have obtained the necessary information from you. In preparing a quotation we take into account the amount of effort required to develop a reliable synthesis procedure, so the information you can supply is to your advantage.
To Request a Custom Synthesis Quotation:
Fill out the Custom Synthesis Request Form (Click Here)
NOTE: Keep in mind that the greater the number and the more restrictive the specifications, the higher the cost.
In the event that a procedure for the synthesis of the desired material is unknown, we suggest a research contract to develop a procedure. Under a research contract all materials fabricated and procedures developed are the sole property of the purchaser including patent rights. Customs are billed on a per hour basis plus the cost of materials. A research proposal will be submitted and a maximum expenditure established with a purchase order.